Shiny Happy People: Jim Isermann & Lily van der Stokker
Jim Isermann, Lily van der Stokker
May 16, 2023 – June 30, 2023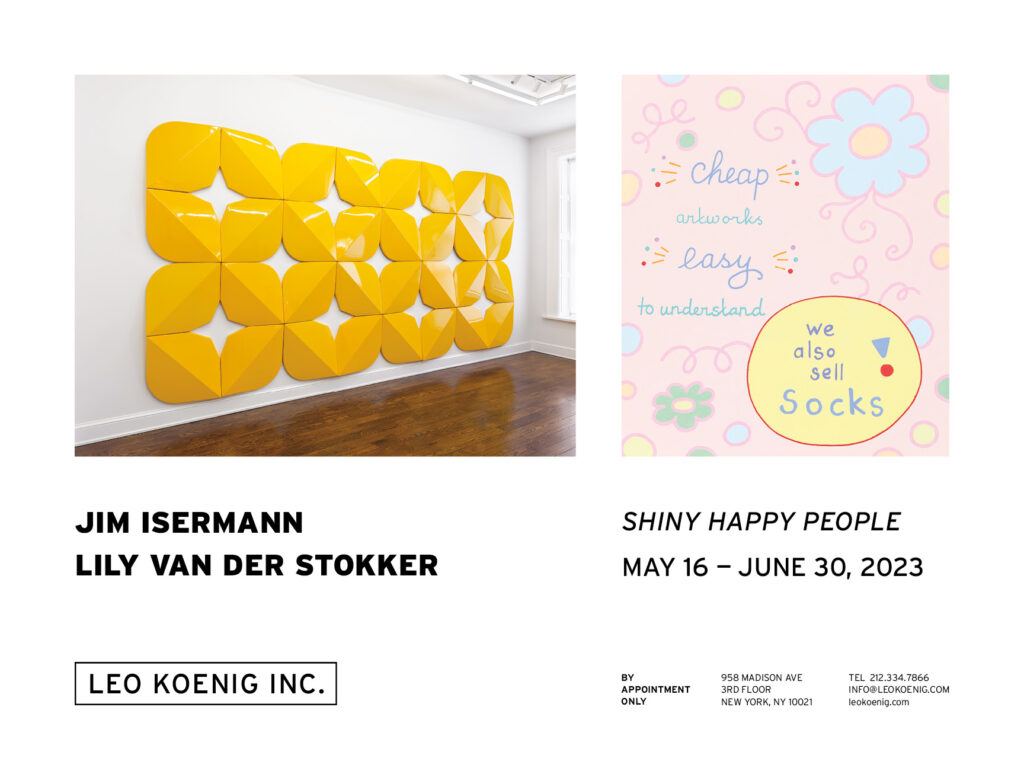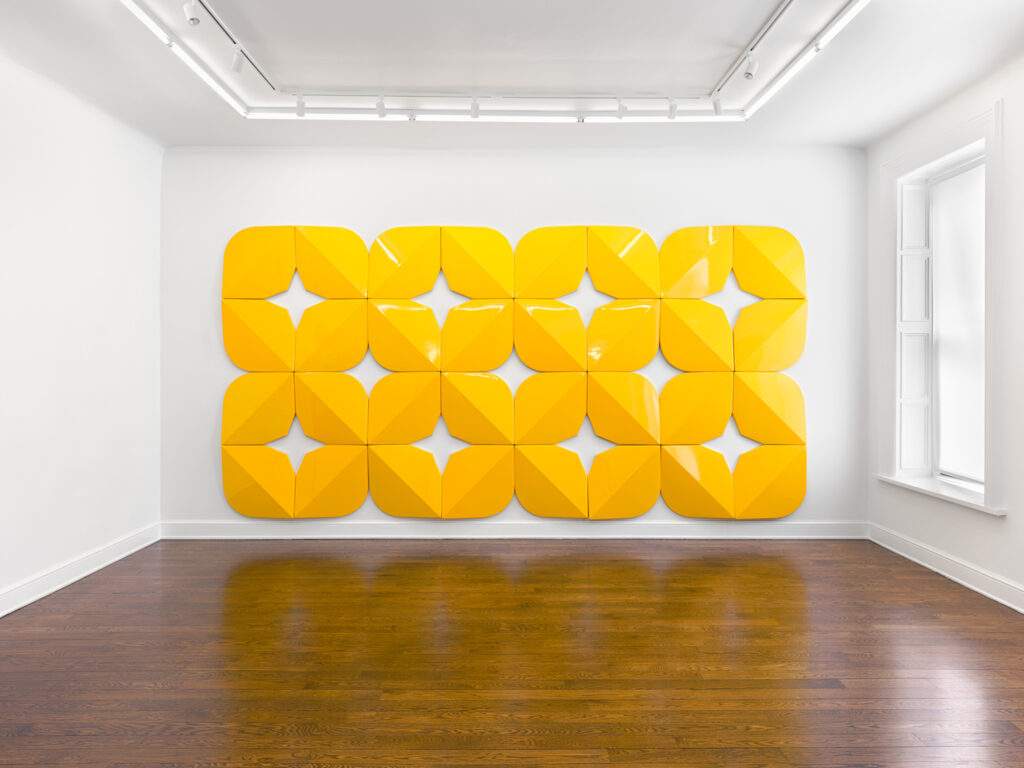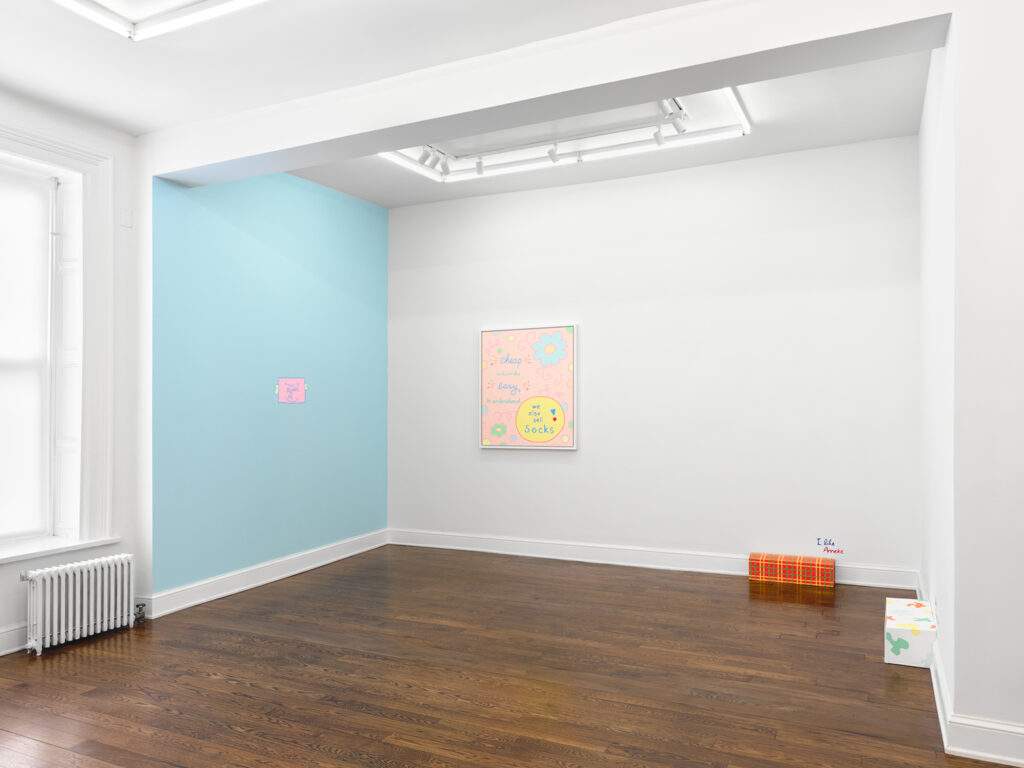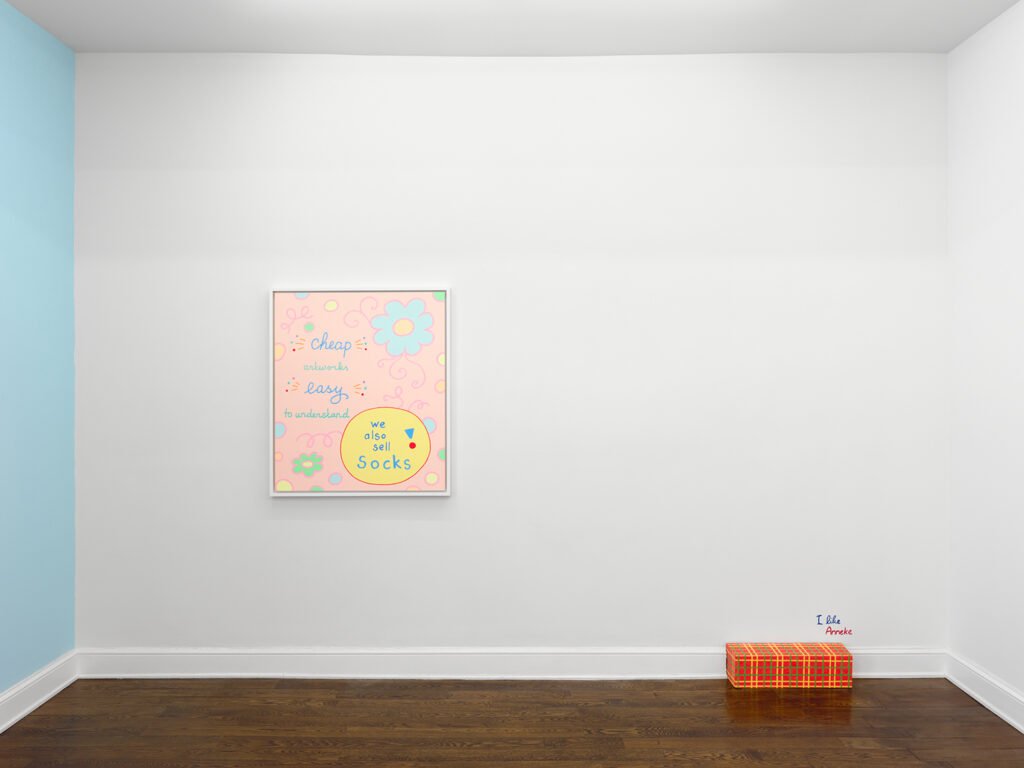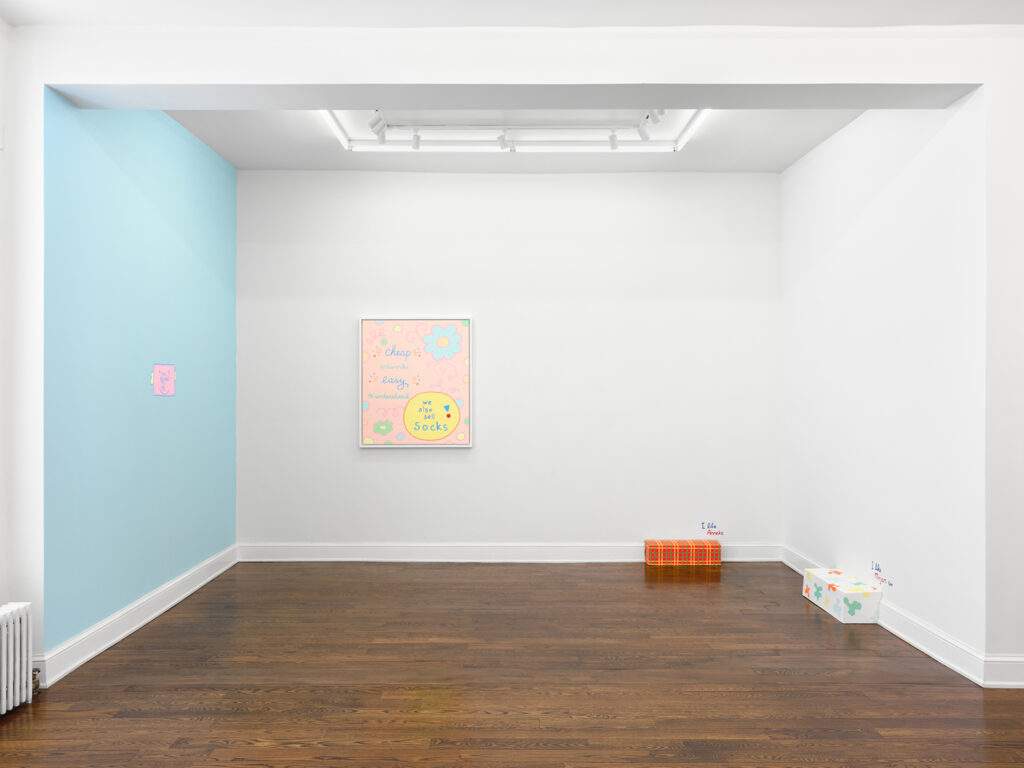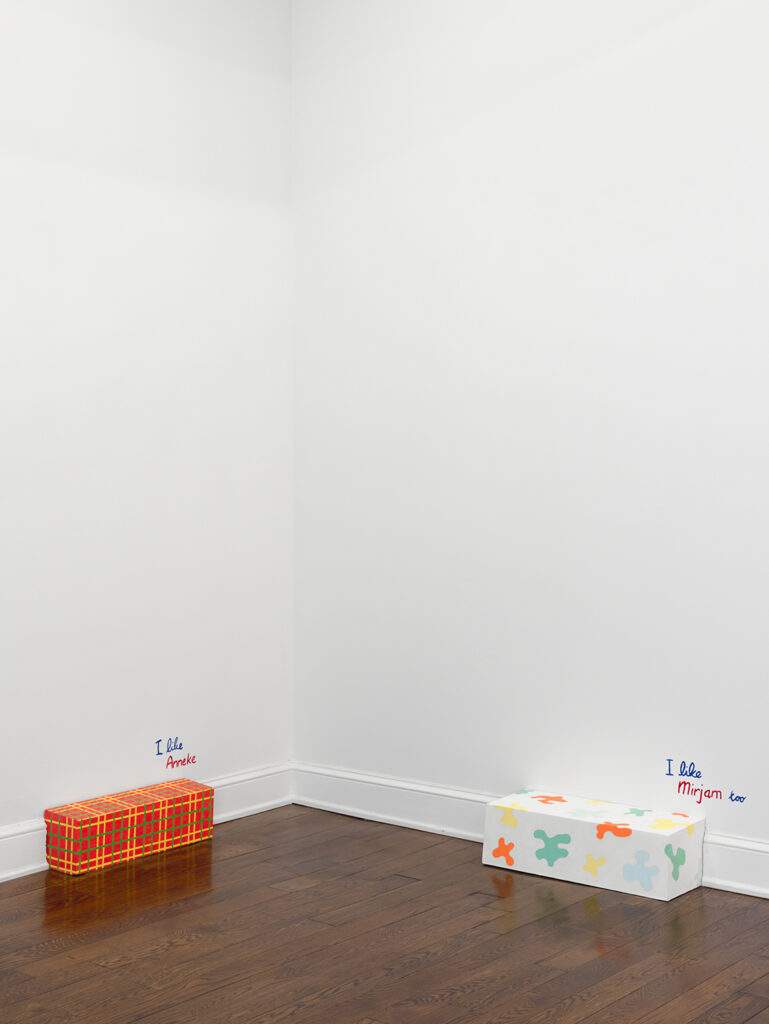 Shiny Happy People:
Jim Isermann
Lily van der Stokker
May 16 through June 30, 2023
Leo Koenig Inc. is delighted to announce the opening of the exhibition Shiny Happy People with works by Jim Iserman and Lily van der Stokker.
Like the song the title calls to mind, the works here are energetic, celebratory, colorful, even sweet.  But like the song's refrain, the works' exuberance belie a complexity lurking under the surface.[1]
Lily van der Stokker has been making her colorful drawings, paintings, furniture, murals and wall paintings since the 1980's. The artist has chosen to highlight everyday chores, selective bits of intimate conversations, and snippets of thoughts about domesticity.  Her works joyously delve into the utterly mundane, adorned with doodles, flowers and patterning often associated with stereotypes of femininity. Employing  signature candy-colored hues, van der Stokker questions  notions of artistic values that are staunchly cool-headed and removed, and reclaims 'feminine' aesthetics that have been historically scorned or dismissed. 'We consider optimistic bright colors, curls and fun pink to be shallow and dumb. However, they seem to create a relaxing pleasure. It has been my life's research to bring this beautiful strength into the forefront and to take away the negativity,' she has said.
In Jim Issermann's practice, pattern, color, geometry and repetition are integral generators of his work in all mediums. Pulling inspiration from varied sources from Op and Pop Art to Sister Corita Kent, to modern architecture, and interior décor, Isermann redefines the outward guise of logic and precision by repeating the apparition of home in technicolor. Christopher Knight argued in his text for the Monograph published by Radius Books that Isermann's work "rooted in a radical commitment to Domesticity-the private shelter and refuge from hostility provided by the home." The exhibition features works that affix to the wall and act as a dimensional wall paper that expose his interest in "total design" or gesanmtkunstwerk while also projecting a joy that is nearly intimidating. [2]
Lily van der Stokker has exhibited internationally, with solo exhibitions including those at Camden Art Centre, London; The Migros Museum für Gegenwartskunst, Zurich; Stedelijk Museum, Amsterdam; SCAD Museum of Art, Savannah; Hammer Museum, Los Angeles; Museum Boijmans van Beuningen, Rotterdam; Tate St.Ives, Cornwal St.Ives, St.Ives; Van Abbemuseum, Eindhoven; Museum Ludwig, Cologne; and Le Consortium, Dijon among others. Her work has also been included in group exhibitions at the Kunstmuseum Basel, Basel; Frac Normandie, Caen; Walker Art Center, Minneapolis; The Art Club of Chicago, Chiacgo; Centre Pompidou, Paris; New Museum, New York; Aspen Art Museum, Aspen; and Villa Arson, Nice; among many others. Van der Stokker has completed numerous monumental public art projects such as the Celestial Teapot, Hoog Catharijne, Utrecht, (2013) and Pink Building during the World Expo in Hannover (2000). Van der Stokker's work is in many permanent collections, including those of Stedelijk Museum, Amsterdam; Museum of Modern Art, Arnhem; Museum Boijmans van Beuningen, Rotterdam; Jumex Collection, Mexico City; Museum of Contemporary Art, Chicago; Centre National des Arts Plastiques, Paris; Le Consortium, Dijon; Musée des Beaux Arts de Nancy, Nancy; Bonnefantenmuseum, Maastricht; Worcester Art Museum, Worcester.
Isermann's work has been the subject of solo exhibitions at Camden Arts Center, London, United Kingdom; Corvi-Mora, London, United Kingdom; Deitch Projects, New York, NY; Hammer Museum, Los Angeles, CA; Institute of Contemporary Art, Philadelphia, PA; Institute of Visual Arts, University of Wisconsin, Milwaukee, WI; Le Magasin – Centre d'art Contemporain, Grenoble, France; Museum of Contemporary Art Chicago, Chicago, IL; Palm Springs Art Museum, Architecture and Design Center, Palm Springs, CA; Portikus, Frankfurt am Main, Germany; Praz-Delavallade, Los Angeles, CA; RISD Museum, Providence, RI; Santa Monica Museum of Art, Santa Monica, CA; Van Abbemuseum, Eindhoven, The Netherlands; and the Weatherspoon Art Gallery, University of North Carolina, Greensboro, NC, among others.
Gallery Hours are Tues.-Fri. BY APPOINTMENT.  Please contact the gallery for more information or email us at info@leokoenig.com
[1] R.E.M's Michael Stipe wrote the pop song as a covert political anthem. Shiny Happy people was culled from propaganda posters in China which proliferated after Tianemen Square, refuting the West's criticism of the country.
[2] Jonathan Taylor, Palm Springs Art Museum video re:Jim Isermann's work Jan.  2020