A Word to the Wind: Alighiero Boetti & Wolfgang Tillmans
Alighiero Boetti & Wolfgang Tillmans
December 7, 2021 – February 11, 2021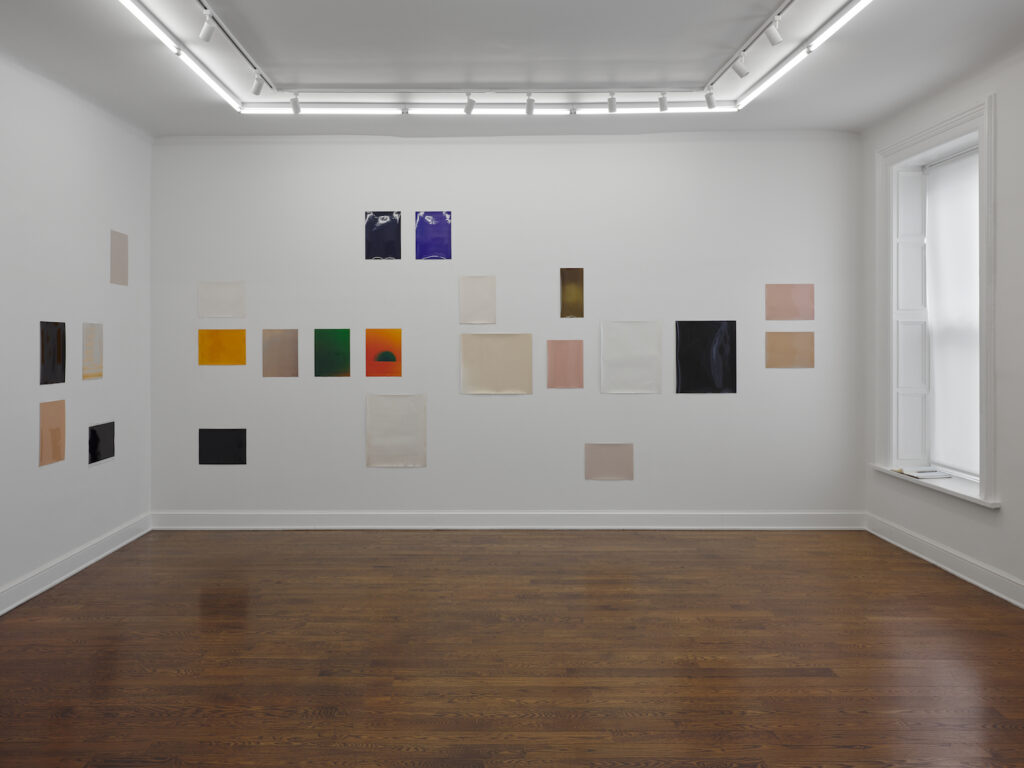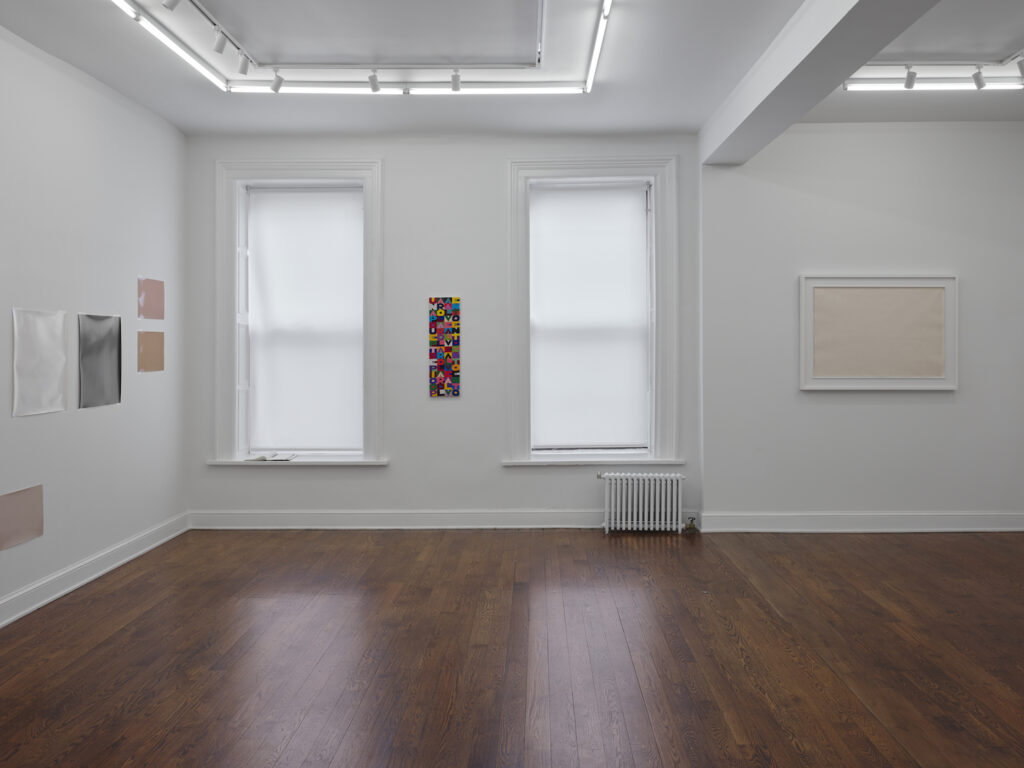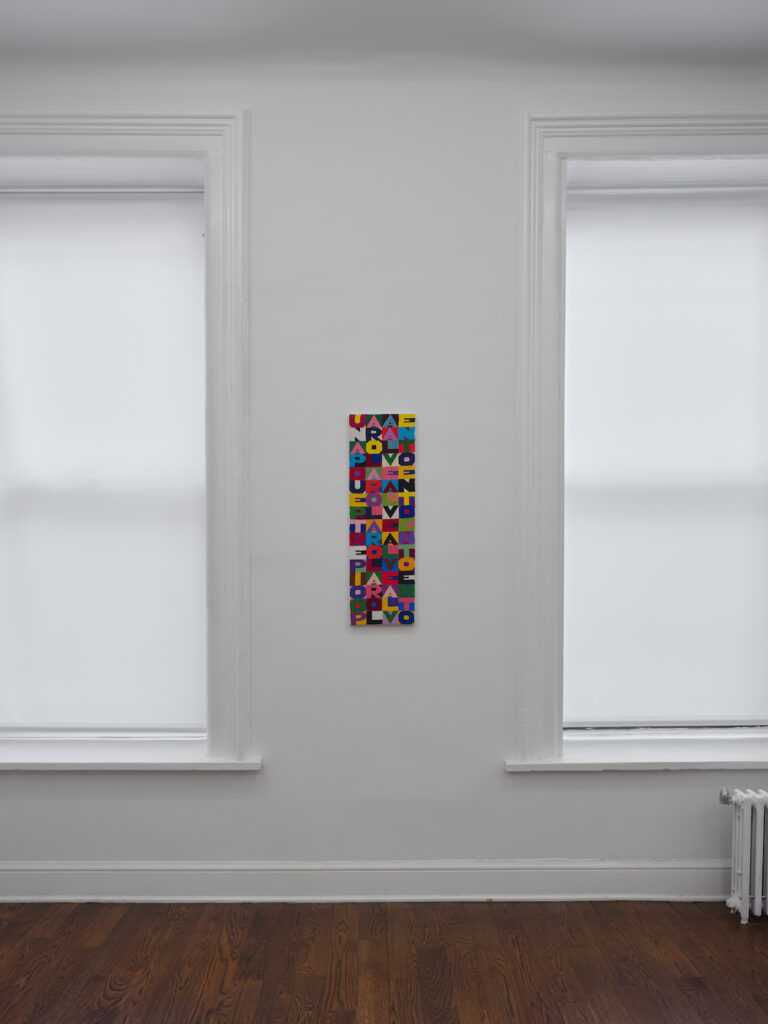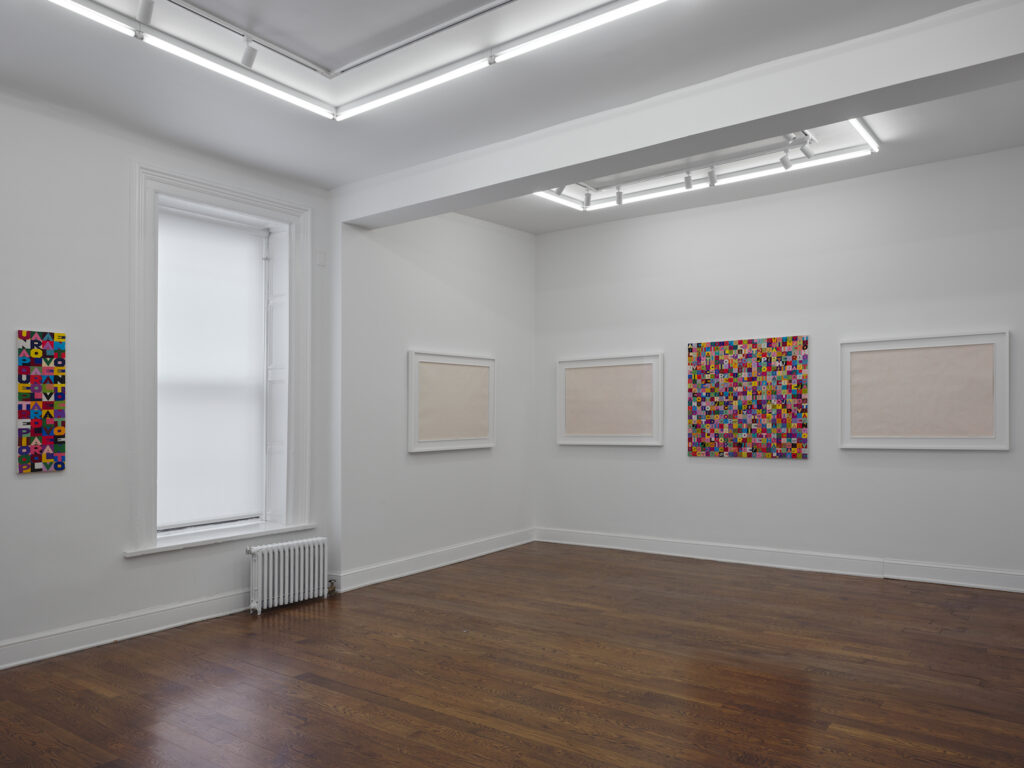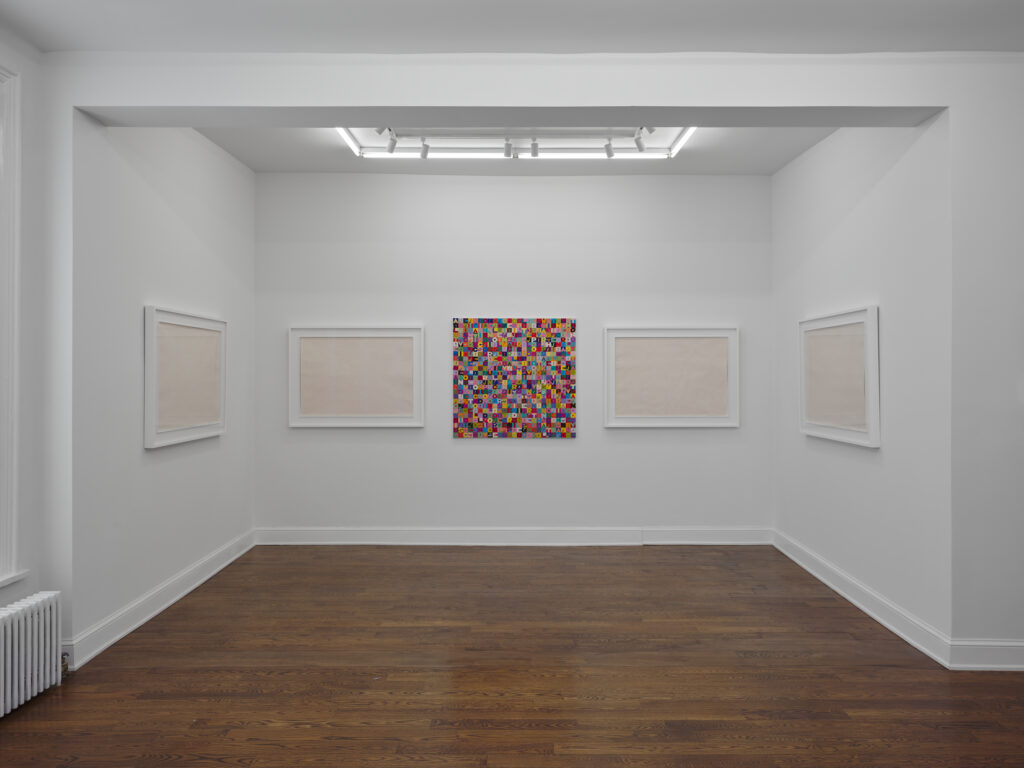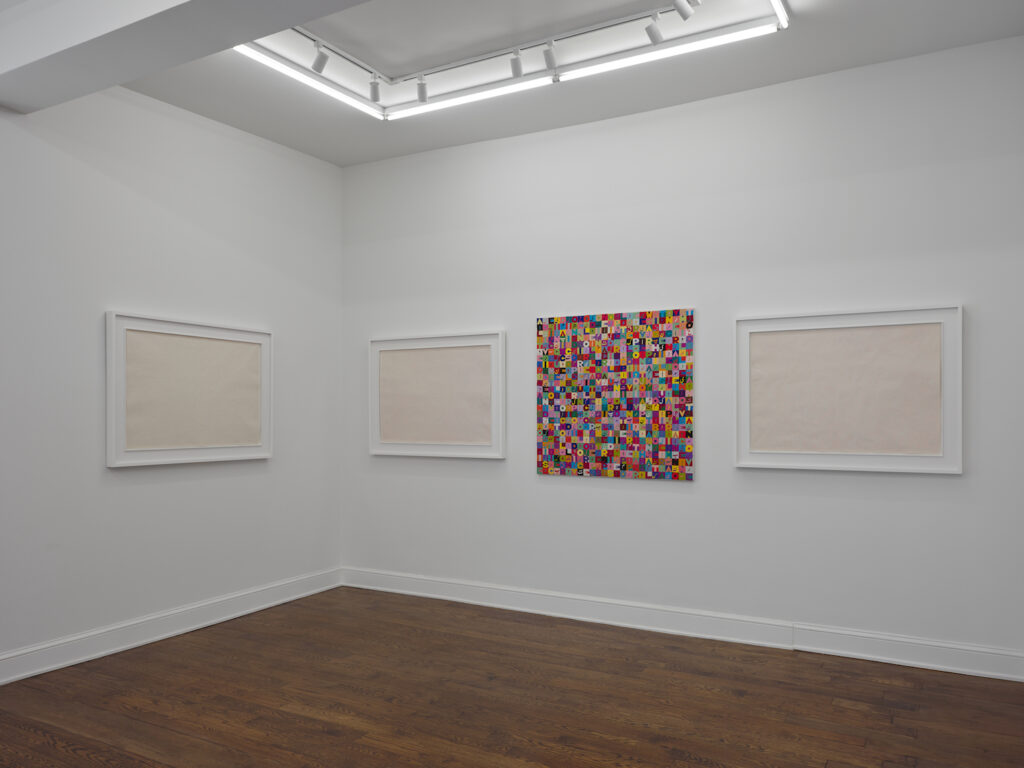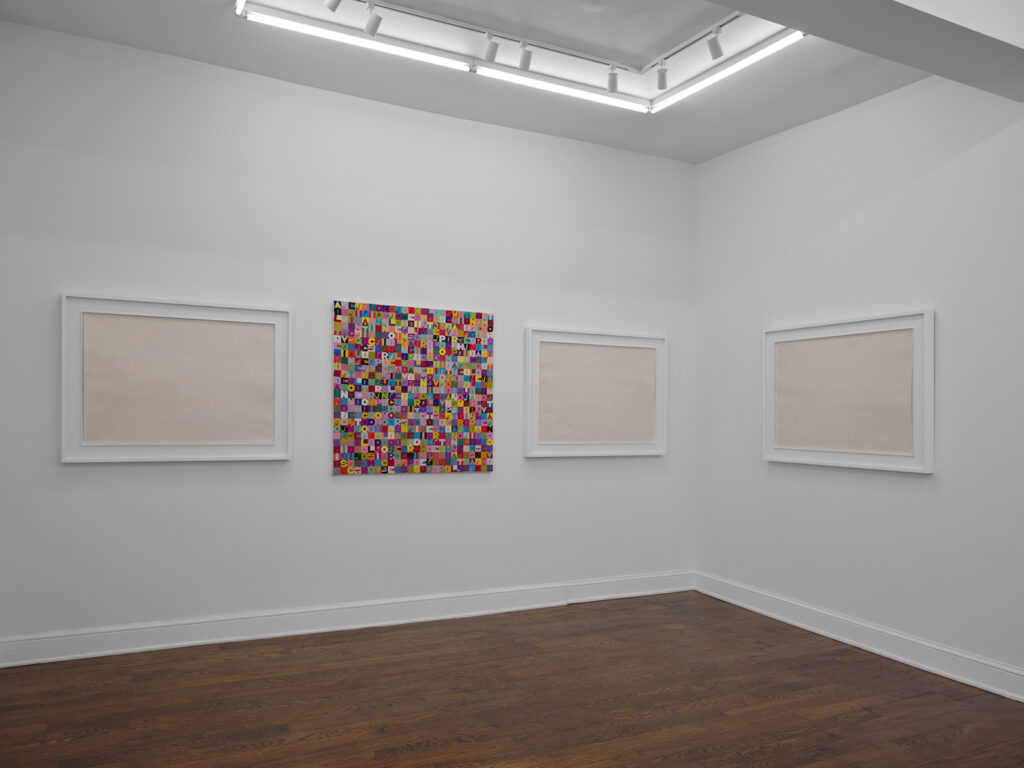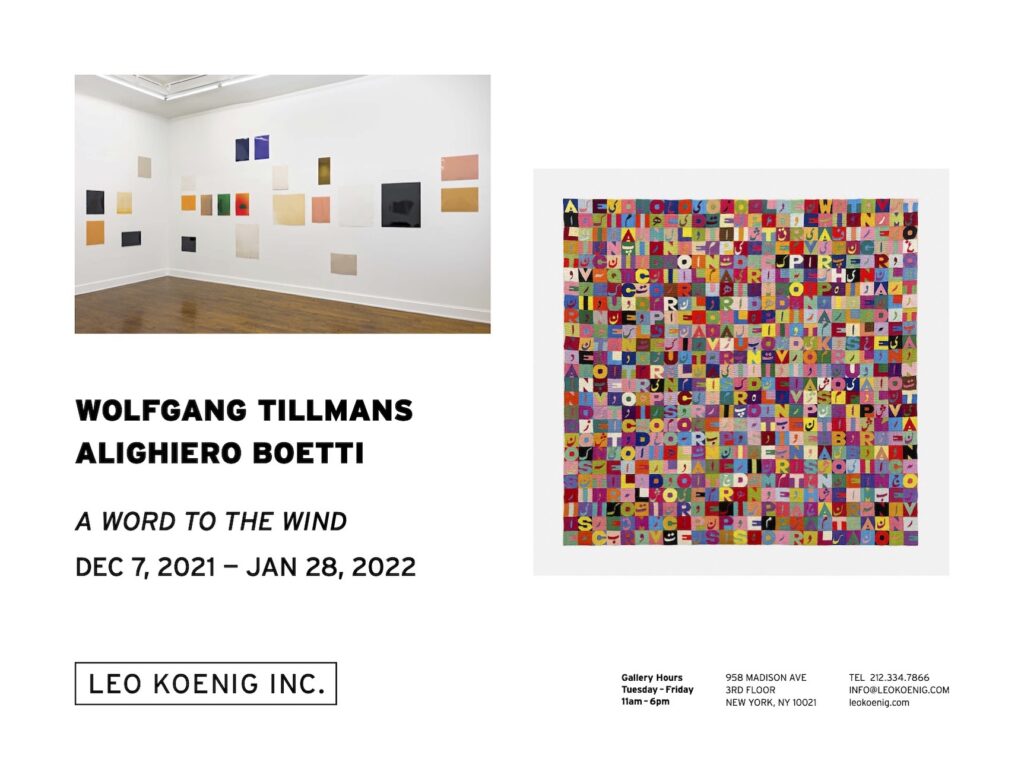 Leo Koenig Inc. is delighted to announce the opening of  A Word to the Wind, works by Wolfgang Tillmans and Alighiero Boetti.  A poetic phrase and title that was used by Boetti to describe a series of his works, "A Word to the Wind" seemed evocative of both artists' work in the exhibition.
Believing that the elements for creation already existed in the world, Alighiero Boetti's ideas were to assemble that which was already there into arrangements with a multitude of dazzling iterations. In many instances, Boetti's work imposed a Pythogorean schematic to express the impossible; the turmoil and mutability of the human experience.  In concept, his innumerable iterations sought to place an interchangeable order on disorder, a way to process the unfathomable universe, to communicate words which disappear once uttered.
In the works Cimento Dell'Armonia e Dell Invenzione, Boetti had recently abandoned the Arte Povera movement, believing that too much emphasis was put on materials. In his own words, he conveyed the break:  "I remember that in the spring of '69… I left everything as it was and started again from scratch, with a pencil and a sheet of paper. I took a sheet of squared paper and made my picture, Cimento dell'Armonia e dell'Invenzione. It consisted of retracing each square. This is what starting again meant to me" [1]
Within Cimento Dell'Armonia, lines turn to frenetically charged waves, tumbling into irregular shapes. The idea of a controlled anarchy and chaos, barely managed through a tightly controlled structure, proved entirely compelling for the artist: "In fact in this 'Cimento' the only rule is that one must retrace everything. There are infinite possibilities of retracing the squares in different ways… in thousands of different ways, one different from the other and even in such a limited space the emotion and the state of mind with which you have created it emerges"[2]
In the Arazzi (Embroidered) works, the themes of Pythagorean grids, gameboards, or magic squares unifies the composition to  present an exuberant, yet calibrated organization of language, and color into a codex of joy.  Incorporating a  mosaic of block letters was a way for Boetti to contrast order and disorder. Employing embroiderers from the middle east with whom he had established relationships with, Boetti sent designs for the individual pieces. While the design was Boetti's own, he entrusted the embroiderers themselves to choose the colors to use. These were made in the 1980s and 1990s and often combined Italian and Persian. Letters from the Western alphabet comingle with those of Abjad on the same plane, spoken on the same wind.
In Wolfgang Tillman's Silver series, we are exposed to yet another example of composing with chaos. The photos themselves are created sans camera and are the result of the interaction between film processing mechanics and the silver nitrate coated paper.  Several substances were used to interact with the paper, including chemicals, salts, algae and light. In this series, Tillman expands the boundaries of the photographic process, taking "accidents" in the development process and using them in a deliberate compositional manner. Here stains from trace chemicals and the titular silver nitrated surface are the elements used to construct images that Tillmans has described as  "Stained, impure, bright, and unstable."
Works from the Silver family are not only unpredictable, but also volatile in that they are expected to "live on" and change with age.   The works are left with traces of their experimentation intact, potentially leading to further changes in the material, the composition and the image. Even the way the works are mounted, directly to a wall with a particular brand of scotch tape, leads to changes in the work over time.  Some of the works, (most of which are small- to medium-format), have a large-scale photographic double. As the original print is subject to a perpetual evolution, the latter image becomes a documentation of one single moment or state in its life. For Tillmans, each of his Silver works represents the "result of a making" considering a range of human or non-human actors and processes, both expected and surprising. The artist is but one of these agents, his level of intervention varying from one piece to another.
Artists Biographical Infromation:
Born in 1968 in Remscheid, Germany, Wolfgang Tillmans studied at Bournemouth and Poole College of Art and Design in Bournemouth, England, from 1990 to 1992. In 2000, Tillmans was the first photographer and first non-British artist to receive the Turner Prize, an award given annually by Tate in London. The artist received the Kulturpreis der Deutschen Gesellschaft für Photographie, serving as an Artist Trustee on the Board of Tate. He has been a member of the Akademie der Künste, Berlin, since 2012 and was appointed a member of the Royal Academy of Arts, London, in 2013.
Since the early 1990s, Tillmans's work has been the subject of prominent solo exhibitions at international institutions including Tate Britain (2003); P.S.1 Contemporary Art Center, Long Island City (2006); Museum of Contemporary Art Chicago (2006), traveling to Hammer Museum, Los Angeles (2006-2007), Hirshhorn Museum and Sculpture Garden, Washington, DC (2007), and Museo Tamayo, Mexico City (2008); Serpentine Gallery, London (2012), which traveled to venues in South America including Museu de Arte Moderna de São Paulo (MAM), Museo de Arte del Banco de la República, Bogotá, Colombia, Museo de Arte de Lima (MALI), Peru, and Museo de Artes Visuales (MAVI), Santiago de Chile; Kunsthalle Zürich (2012), Traveling to Les Rencontres d'Arles in France (2013); Moderna Museet, Stockholm (2013); and The National Museum of Art, Osaka (2015). Also in 2015, Book for Architects, a two-channel video installation, was on view at The Metropolitan Museum of Art, New York. In 2016, a solo show of the artist's work was hosted by Museu Serralves, Porto.
Born in Turin, Italy, in 1940, Alighiero Boetti was a Conceptual artist and leading member of the Arte Povera movement. As a young artist in the 1960s, he joined Mario and Marisa Merz, Giulio Paolini, Michelangelo Pistoletto, and Luciano Fabro in forming Arte Povera, a movement that promoted breaking with conventional power structures, corporate mentality and traditional artistic practices.
Like many artists of the Arte Povera group, Boetti turned to a variety of textiles and modes of production that lie outside of the formal fine arts. Using ball point pens, flags, postal stamps, and textiles of different textures, Boetti created series of Mappa, or maps of the world, which chart political, anthropological or cultural identities of regions or countries. He commissioned women at embroidery schools in the Middle East to sew some of his map series, collaborating and incorporating voices from the regions he depicted. Some of his works were temporal, wherein lights would randomly turn on for only seconds of a year, perhaps even in empty rooms. He used the postal system, grid structures or arbitrary time frames as a means to explore his deep interested in the role of chance in his artistic production.
Boetti took part in two Documentas and five Venice Biennales, and his works have been exhibited in major galleries and museums in Europe and the United States before his premature death in 1994 as a result of a brain tumor. He has been honored posthumously with seven large scale exhibitions or retrospectives at significant museums including the Whitechapel Gallery, London; the Kunstmuseum Liechtenstein; and the Galleria Nazionale d'Arte Moderna, Rome.
Leo Koenig Inc. looks forward to welcoming you to the current exhibition. The Gallery is open to the public Tuesday through Fridays 11-6 pm.  Unfortunately, because of the massive uptick in Covid cases, the gallery is open by appointment only. For more information please call us at 212.334.7866 OR email us at info@leokoenig.com
[1] (Alighiero Boetti quoted in: Gabriele Perretta, 'L'art, gli artisti e il 68', Flash Art, No. 147, December 1988, p. 69).
[2] (Alighiero Boetti in conversation with Mirella Bandini in: Exhibition Catalogue, Torino, Galleria Civica dell'Arte Moderna e Contemporanea, Alighiero Boetti: 1965 – 1994, 1996, n.p.).